Legendary Super Star Celebrities Announced
McAllen Holiday Parade Polar Express Park & Ride touted as quickest, surest and safest way to get to event on time
While the weather in the Rio Grande Valley already feels like winter has arrived, for the McAllen Holiday Parade, presented by H-E-B and powered by Bert Ogden & Fiesta Dealerships, there is still a lot of fall left to enjoy, building up the excitement for this year's presentation.  Today, organizers of the international-award winning event unveiled its final list of celebrities who will grace the parade and be a part of the special activities.
As has been the tradition for the McAllen Holiday Parade for five years now, members of the Dallas Cowboys franchise are invited to lead the parade.  This year is no different and organizers this year have selected another trio of rising stars from among America's Team. Joining the ever-impressive list of Dallas Cowboys players who have appeared at the McAllen Holiday Parade this year are cornerback Trevon Diggs, #7; wide receiver Michael Gallup #13; and wide receiver Cedrick Wilson, Jr. #1.
Trevon Diggs currently leads the NFL in interceptions. He played college football at Alabama and was drafted by the Cowboys in the second round of the 2020 NFL Draft. His brother is All-Pro Wide Receiver Steffon Diggs for the Buffalo Bills. Through Week 10 of this season, Diggs has a career record of 86 tackles; one sack; one forced fumble; 27 pass deflections; 11 interceptions; and two touchdowns.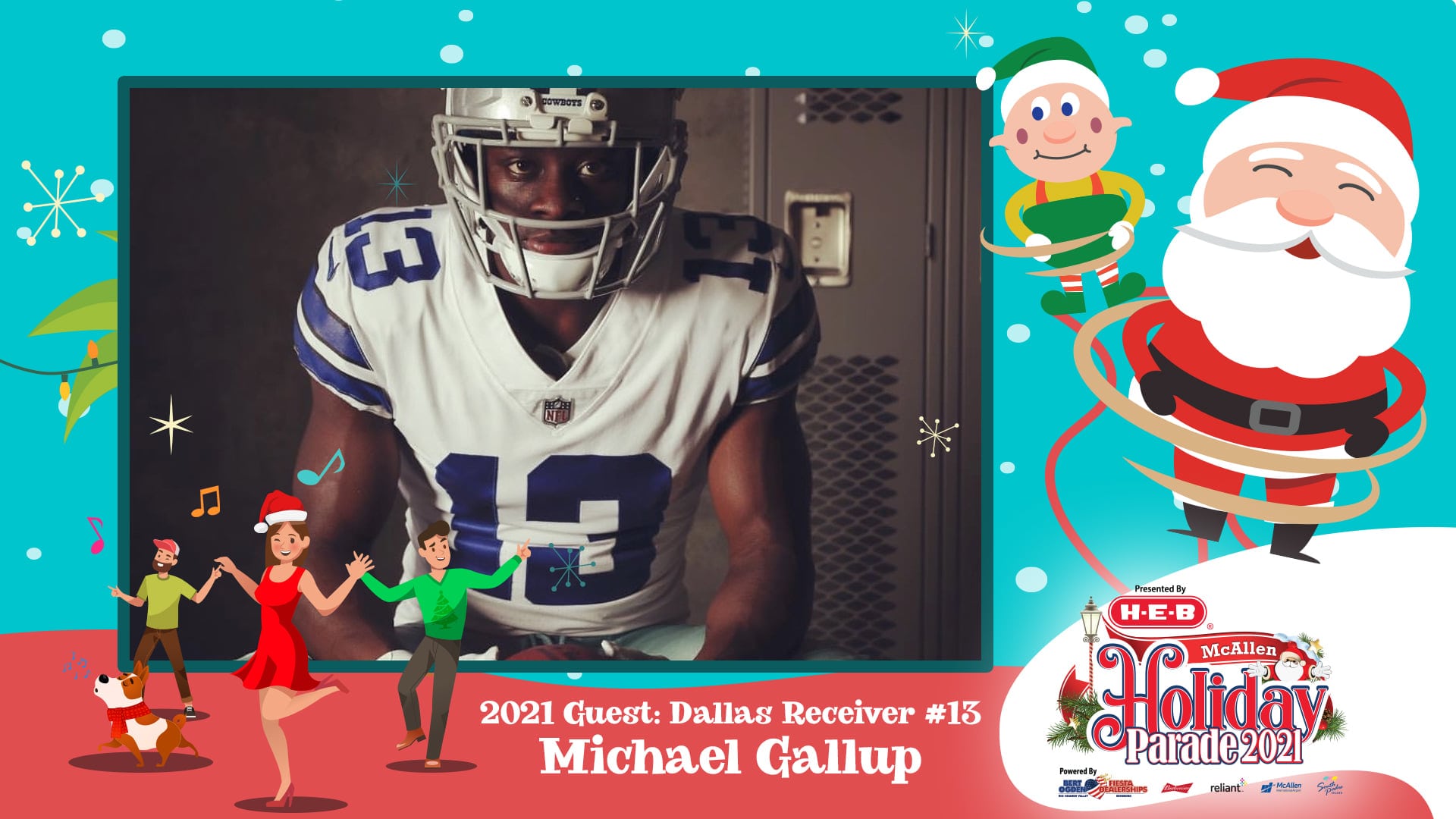 Michael Gallup played college football at Colorado State University and was selected Gallup in the third round with the 81st overall pick in the 2018 NFL Draft. He currently has a career record of 165 receptions; 2,525 receiving yards; and 13 receiving touchdowns.
Cedrick Wilson, Jr. played college football at Boise State University and currently has 41 receptions; 515 receiving yards; and five receiving touchdowns.
"This is such an amazing roster of celebrities for our Dallas Cowboys fans here in McAllen, the Rio Grande Valley, South Texas, northern Mexico, and anywhere else in the world where Dallas Cowboys fans live," said McAllen Mayor Javier Villalobos. "We invite them all to come down and enjoy the best parade in the world, right here in McAllen."
Everyone can begin their holiday season fun by celebrating under and with the stars at Christmas in the Park, starting on Friday, December 3 and continuing on Saturday, December 4. The family-friendly and free winter festival is held at Municipal Park, right next to McAllen Veterans Memorial Stadium at 1921 Bicentennial Boulevard, and features food, fun, vendors, arts & crafts and entertainment for the whole family.
Thanks to the Dr. Raul Peña and Peña Eye Institute, the Dallas Cowboys fan experience for this year will be a wonderful celebration of true blue experience for fans. The ever-famous Dallas Cowboys Hall of Fame Trailer will be available to the public at Christmas in the Park. Attendees will be able to see the amazing memorabilia, take pictures and see replicas of the Dallas Cowboys locker room, their Super Bowl trophies and even their shoe size.
Of course, no McAllen Holiday Parade will be complete without the special appearance of the world-famous Dallas Cowboys Cheerleaders and Rowdy, the Dallas Cowboys mascot.
"Being a part of the McAllen Holiday Parade, which has become such a special part of the Christmas tradition for families here in the Rio Grande Valley, is very exciting for me and the Peña Eye Institute," said Dr. Peña. "We are proud of the eye care we provide and have had the privilege of serving our community. Being the Rio Grande Valley's Official IntraLASIK Surgeon of the Dallas Cowboys is also something that is extremely special to us and our patients. Being able to extend the partnership we have with America's Team, the Dallas Cowboys, to the festivities at Christmas in the Park and the parade is something we love to do."
Getting the family to the parade or Christmas in the Park will not be difficult, as the City of McAllen, in partnership with South Texas College, will offer a FREE McAllen Holiday Parade Park & Ride Polar Express Shuttle from the STC campus on Pecan Boulevard to the Quince Avenue and 23rd Street parade Drop-Off/Pick-Up point. Starting at 12:00 p.m. on Saturday, December 4, trolleys will make a continuous loop approximately every 10 minutes, from pick-off point at STC to the parade Drop-Off/Pick-Up point. The Park & Ride Polar Express Shuttle will run until 12:00 a.m. Wheelchairs, walkers and strollers are welcome, as are service dogs.
Organizers are reminding parade attendees that, to keep everyone safe, there will be multiple road closures around McAllen Veterans Memorial Stadium, the site of the parade step-off, beginning at noon the day of the parade.  These road closures are designed to help parade participants arrive to the staging area safely and to avoid traffic congestion or accidents as hundreds of thousands of spectators make their way to the parade viewing area.
"As the largest single day attendance event in the Rio Grande Valley, it is our priority to make sure that everyone arrives safely and on time to see the McAllen Holiday Parade," said Joe Vera,  McAllen Assistant City Manager and Executive Producer of the event. "We ask everyone to take note of the road closures, to pay attention to barriers and pedestrians and to take advantage of the free MHP Polar Express that will get everyone to the parade site quickly, safely and most assuredly.  Thanks to the many law enforcement partners who will be assisting with traffic control and other security details, we want to make sure that everyone has a fun and safe time at the Best Parade in the World," concluded Vera.
The holiday fun kicks off on Thursday, December 2 with the Hearts of America Carnival at Christmas in the Park, at Municipal Park, 1921 Bicentennial Boulevard. Take advantage of getting your unlimited carnival rides bracelet, a $20 value, for $15, on sale at carnival and good only on Thursday. Christmas in the Park runs Friday and Saturday with free admission, food and artisan vendors, and a free concert with Liberación and Tejano Highway 281 on Friday night
Thanks to a delayed Spanish broadcast, the parade will air on Saturday, December 25, 2021 on TeleXitos Network in 31 U.S. Hispanic markets, including the Rio Grande Valley, starting at 12:00 p.m.
Sign up for  the McAllen Holiday Parade Sweepstakes, by simply texting the word McAllen to phone number 797979 or 956-474-6767, folks can get registered to win a bevy of prizes, thanks to parade sponsors.
There are still a lot of other ways to watch the McAllen Holiday Parade live, including VIP Stadium seating and various parade route seating along Bicentennial Blvd.  To purchase tickets to the event , visit www.mcallenholidayparade.com,  the McAllen Performing Arts Center Box Office or any one of the McAllen community centers, including Lark, Las Palmas and Palm View.
Parade route chair tickets are still available for purchase at any one of the McAllen community centers, also for only $10. These seats are so popular that selling them as a fundraiser is an opportunity that is available one again only to non-profit or other community organizations.  Groups interested in participating in this fundraiser activity can contact Lark Community Center for more details and to sign up.
Parade organizers are also still looking for volunteers to be a part of the parade. Balloon handler volunteers must be 18 years or over, while banner carriers must be 16 years or over. All volunteers must go through a background check. Learn more at www.volunteersotx.org or send questions or to sign up at pardvolunteers@mcallen.net.
Celebrities Mario Lopez and Julian Gil will serve as co-hosts for the parade, while recently announced international celebrities Ximena Cordoba and Danilo Carrera will also make an appearance at the parade.  Also making appearances at this year's parade will be Raul Brindis of Univision Radio, with El Show de Raúl Brindis y Pepito, the leading Morning Show in Houston regardless of language; iHeart Radio DJ Tino Cochino, who hosts the number one Latino hosted English-speaking syndicated radio show in America, airing nationally in over 60 markets across the country; and ShoBoy, whose show is a nationally syndicated feel-good listening experience that's real, relatable and fun with a Latin Twist
The McAllen Holiday Parade, presented by H-E-B and powered by Bert Ogden & Fiesta Dealerships, is the largest illuminated holiday and helium balloon parade in Texas and uses 15 miles of rope light, which generates 1,875,000 lumens of light to properly illuminate the parade and 44,500 cubic feet of helium to keep those giant balloons afloat and is powered by 12,000 horsepower by over 50 trucks from Bert Ogden & Fiesta Dealerships.
Other sponsors who are helping to bring the largest illuminated holiday and helium balloon parade in Texas to the streets of McAllen are Budweiser, Reliant, McAllen International Airport and South Padre Island CVB. Other sponsors include McAllen I.S.D.; McAllen International Bridge System; McAllen Public Utility; Matt's Building Materials; Stripes/Laredo Taco Company; Metro McAllen; University of Texas-RGV; Winfield Communities, IBC Bank; Peña Eye Institute; Linebarger Attorneys at Law; McAllen Chamber of Commerce/MXLAN; PepsiCo.; McAllen Public Works; Mike Rhodes – Tres Lagos; AEP Texas; McAllen Economic Development Corp.; Lacks; Doña Lula; Hermes; Whataburger; South Texas College; Cigna Health Care; O' Reilly Auto Parts; Plains Capital Bank; Taco Palenque; Raising Canes; Carollo Engineers; KSA Engineers; MedCare EMS; Halff Associates; Raba Kistner Consultants, Inc.; S&B Infrastructure; and the Texas Lottery. Media Partners include KRGV 5/Azteca; IHeart Radio; Univision 48 Entravision; Aim Media The Monitor; Telemundo 40;  Univision Radio; Nexstar Media: KGBT 4/NBC Local 23;  Mas Music; The Advance News; Radio United; Revista Expresión, El Periódico, U S.A.; and Lamar Outdoor.